Sale!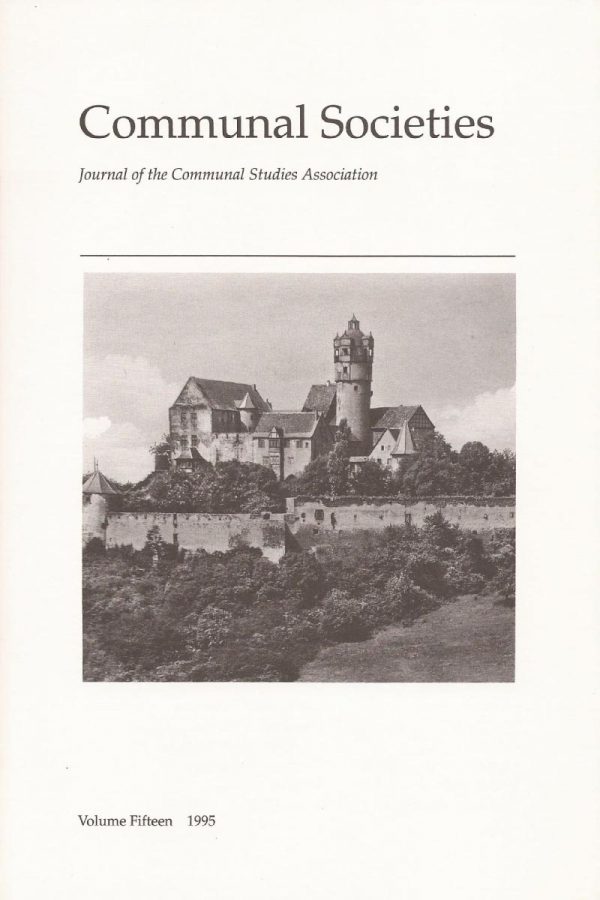 Communal Societies, Vol. 15, 1995
$11.00 – $25.00
Description
Contents
GLENDYNE R. WERGLAND
Lust, "A Snare of Satan to Beguile the Soul": New Light on Shaker Celibacy' 1
SUSAN MATARESE AND PAUL SALMON
Assessing Psychopathology in Communal Societies, 25
GAYLE V. FISCHER
Dressing to Please God: Pants-Wearing Women in Mid-Nineteenth-Century Religious Communities, 55
RUTH KARK
Post Civil War American Communes: A Millenarian Utopian Commune Linking Chicago and Nås, Sweden, to Jerusalem, 75
PHILIP WEBBER, "Das Depot and the Post Office": Language Contact and Social Perspectives among the Early Inspirationists, 115
Research Note
RACHEL E. WRIGHT-SUMMERTON
Survey of Letters to Padanaram Settlement,1967-1991/1992, 121
Reviews
HARVEY BAKER
Eco-Villages and Sustainable Communities, by Diane Gilman and Robert Gilman, 131
PHILIP DARE
American Utopias, by Charles Nordhoff (with a foreword and afterword by Robert Fogarty), 133
GERALD GUTEK
Partnership for Posterity: The Correspondence of William Maclure and Marie Duclos Fretageot, by Josephine Elliott, 134
SUSAN MATARESE
Shaker Cities of Peace, Love and Union: A History of Hancock Bishopric, by Devorah E. Burns, 136
JEANNE SCHULER
Marxism and Christian Utopianism: Toward a Socialist Political Theology, by John Marsden, 138
LAURA WEAVER
The Amish Struggle with Modernity, by Donald B. Karybill and Marc Olshan, 141
JONATHAN ANDELSON
Beyond Counterculture: The Community of Mateel, by Jentri Anders, 143
Cover
The Ronneburg Castle in Hesse, Germany, was the site of one of the assemblies of the Community of True Inspirationists. The Inspirationists migrated in the mid-nineteenth-century to the USA, first to the vicinity of Buffalo, New York, and then to Iowa. Descendants still live there in the Amana Colonies.
Additional information
| | |
| --- | --- |
| Shipping Destination | USA and Canada, International |