Sale!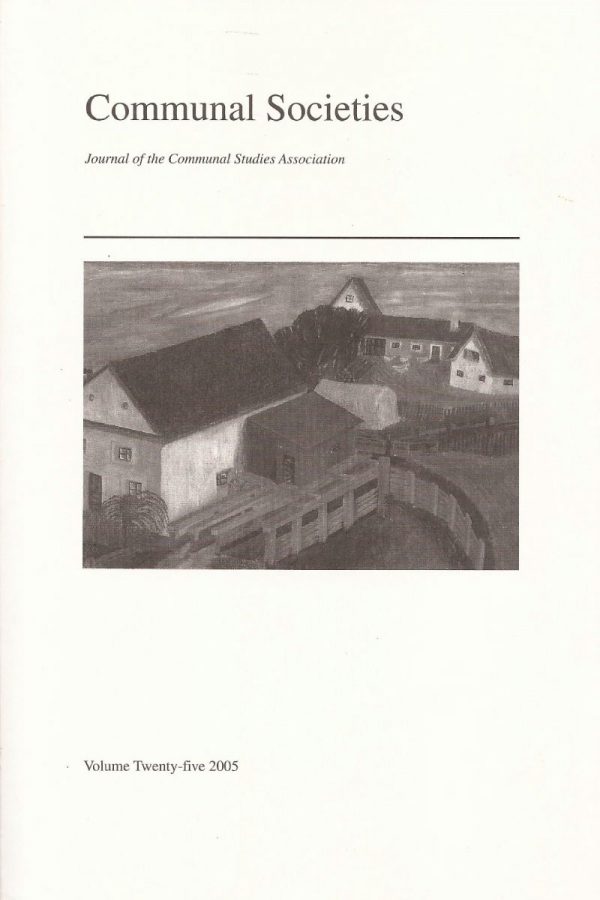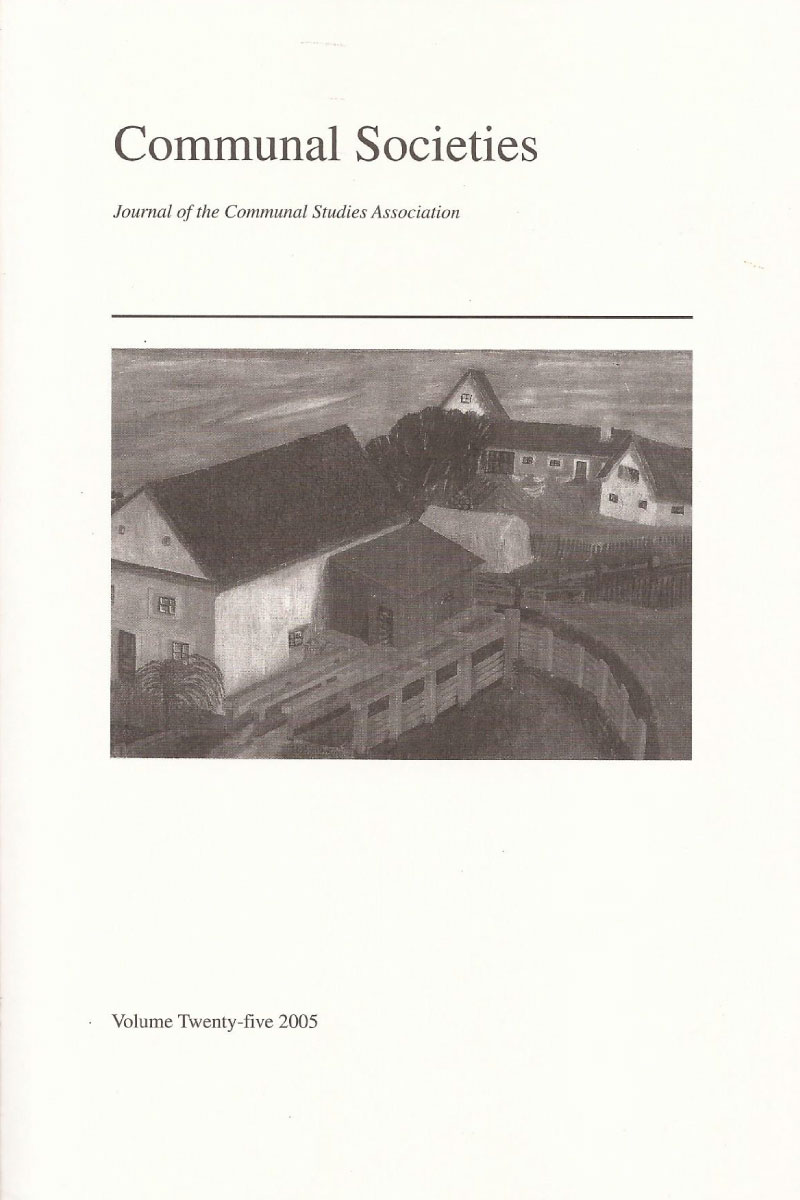 Communal Societies, Vol. 25, 2005
$11.00 – $25.00
Description
Contents
MIKE TYLDESLEY
Watson Thomson: An "Insider" Critique of Intentional Community
DONALD W. WHISENHUNT
John Affolter:  Co-op Activist and community Builder   15
LAURIE RIVLIN HELLER
Basic Sense:  The More Philosophy of Victor Baranco and the Institute of Human Abilities   29
JAMES J. KOPP AND CAROL GINTER
Seeking Prosperity and Freedom on the Oregon Coast:   The Bellamy Colony, Lincoln County, Oregon (1897-1899)   57
MICHAEL CLARK AND PAMELA J. CLARK
Colorado Co-operative Colony:  The Brook Farm of the West   75
JOANNE E. PASSET
Beyond Berlin Heights:  The Free Lovers in History and Memory   91
SUZANNE R. SMITH AND BRON B. INGOLDSBY
Dating and Educational Behaviors of Hutterian Youth   113
ANNETTE LUCIA GIESECKE
Vitruvius to Vinyl:  Paradise Lost:  A Field Report from the Cul-de-Sacs of Despair   127
DALE A. JOHNSTON
A Cyber-Bibliographic Essay:  Internet Resources for Exploring Nineteenth Century American Utopian Communities   147
Documents
MARTINE VONK
Timon Communities in the Netherlands   177
Reviews Essays
Fictional Intentional Communities in Literature,
KRIS LATONAThe Hippie Trip;
CLAIRE GARDEN, Child of the Wild Wind;
GEORGIA BLAIN, Names for Nothingness;
TOM SHAPCOTT, Spirit Wrestlers;
BILL METCALF 185
Memoirs of the 60s Communes, Just in Time,
ARTHUR KOPECKY, New Buffalo:  Journal from a Taos Commune;
MARGARET HOLLENBACH, Lost and Found:  My Life in a Group Marriage Commune;
ROBERTA PRICE Huerfano:  A Memoir of Life in the Counterculture;
D'ARCY FALLON, So Late, So Soon: A Memoir;
TIMOTHY MILLER 189
Reviews
SUSAN LOVE BROWN
Under the Banner of Heaven: A Story of Violent Faith; DOROTHY ALLRED SOLOMON,  Predators, Prey, and Oher Kinfolk:  Growing Up in Polygamy by Jon Krakauer   195
RUTH B. LAMBACH
The Findhorn Book of Community Living by Bill Metcalf   199
DAN MCKANAN
A Priceless View: My spiritual Homecoming by Dierdre Cornell  202
BILL METCALF
Living in Utopia:  New Zealand's Intentional Communities by Lucy Sargisson and Lyman Tower Sargent   205
GILES WAYLAND-SMITH
Free Love in Utopia:  John Humphrey Noyes and the Origin of the Oneida Community by Lawrence Foster, Ed.   208
Cover
Hutterite Grist Mill, Velke Levare, Slovakia, 1935.  Oil painting by Hutterite descendent Heinrich Bartosik.  Photograph courtesy of Henry J. Bartosik.  Most members of the Velke Levare Hutterite Community converted to Catholicism in the mid-18th century but they continued to live semi-communally as a  separate German-speaking ethnic group called Habaner, until World War I.  This oil painting was done by Heinrich Bartosik one year after he immigated to the United States.  In May 2005 the painting was donated to a museum in Malacky, Slovakia, which holds a  large Hutterite archival collection.
Additional information
| | |
| --- | --- |
| Shipping Destination | USA and Canada, International |