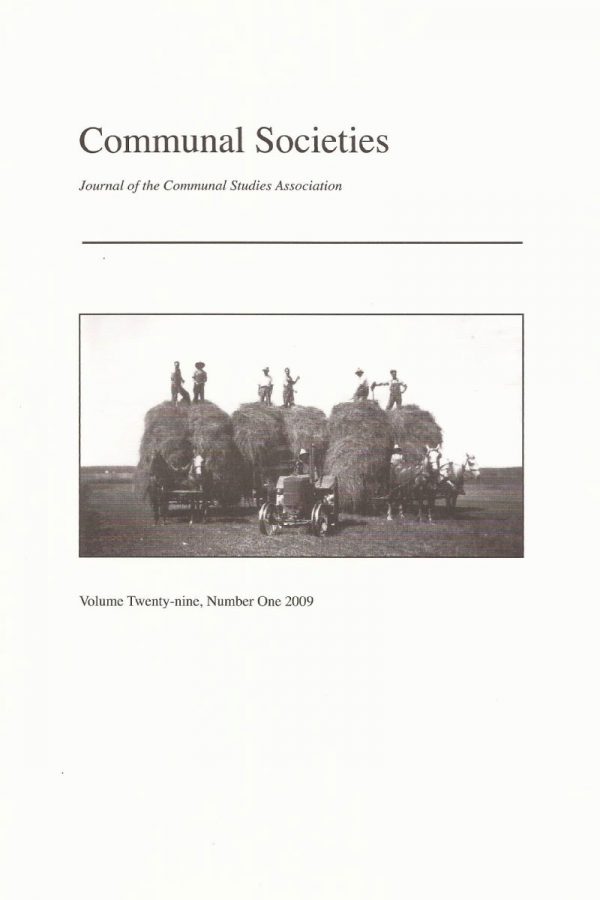 Communal Societies, Vol. 29 No.1, 2009
$15.00 – $25.00
Description
Content
Articles
JOSHUA LOCKYER
From Developmental Communalism to'I'ransformative; Utopianism: An Imagined Conversation with; Donald Pitzer
DONALD E, PITZER
Response to Lockyer's "From Developmental; Communalism to Transformative; Utopianism"
PETER H. COCK
Community Sustainability: The Challenge of Intergenerational Change
PHILIP E. WEBBER
Zoar in the Civil War: Choosing between; Pacifism and Participation
PETER HOEHNLE
The Communal Wanderings of August Jacobi
ANGELA TJADEN
The Communal System of the Amana Colonies: Impact of Hired Labor. 1884-1932
Documents
LANNY HALDY
Inspirationist Imprints in America, I849-1929: A Bibliography of Gerinan-Languagc Books; Produced by the Community of True Inspiration
Reviews
CAROLYN JESSOP WITH LAURA PALMER
Escape; Martha Sonntag Bradley.
STEPHEN SINGULAR
When Men Become Gods: Mormon Polygamist Warren Jeffs; His Cult of Fear, and the Women Who Fought Back; Martha Sonn(ag Bradley
THE ENFIELD SHAKER SINGERS
We Find No Harm in Dancing: Christian Goodwillie & Sarah Goethe-ones
FLOYD H. DUNCAN
The Utopian Prince: Robert Owen and the Search for the Millennium; Jayne Kaman
STAN KAHN
Y3K: .Iames J. Kopp
ELISSA WALL WITH LISA PULITZER
Stolen Innocence:  My Stony of Growing Up in a Polygamous Sect, Becoming a Teenage Bride, and Breaking Free of Warren Jells; Etta Maddenl
ALASTAIR GORDON
Spaced Out: Radical Environments of the Psychedelic Sixties;  Timothy Mill
Cover
Haymakinng near West Amana village, circa 1930. Photograph by Rudolph Kellenbergcr, courtesy of the Amana Heritage Society.
Additional information
| | |
| --- | --- |
| Shipping Destination | USA and Canada, International |