Sale!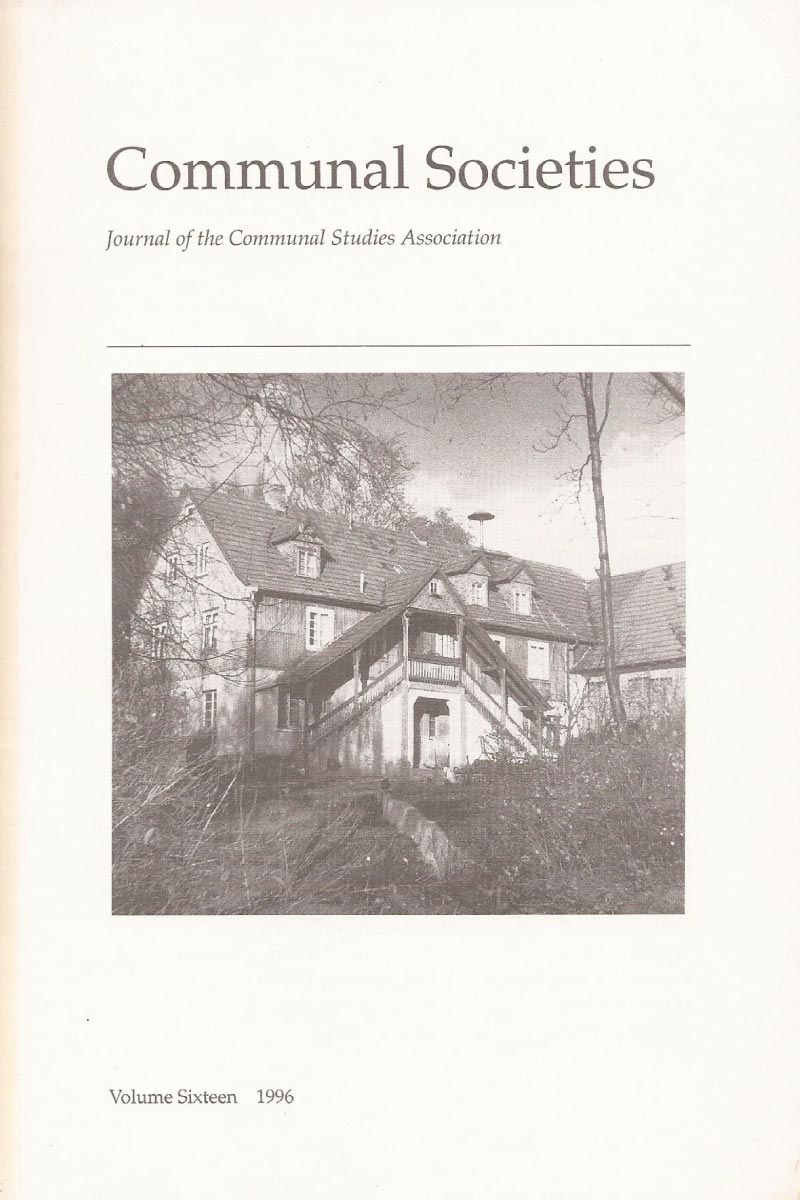 Communal Societies, Vol. 16, 1996
$11.00 – $25.00
Description
Contents
AMANDA PORTERFIELD
A Sister to Oneida: The Missionary Movement at Mount Holyoke, 1
MARLYN KLEE-HARTZELL
The Oneida Community Family, 15
MICHAEL TYLDESLEY
Gustav Landauer and the Bruderhof Communities, 23
TIMOTHY MILLER
Artists' Colonies as Communal Societies in the Arts and Crafts Era, 43
MASSIMO INTROVIGNE
Damanhur: A Magical Community in Italy, 71
LYMAN TOWER SARGENT
Index to Communal Societies Volumes 1-15 (1981-1995), 85
Reviews
CHARLES P. LEWARNE
All Possible Worlds: Utopian Experiments in British Columbia,by Justine Brown, 105
THOMAS MANSHEIM
Torches Extinguished: Memories of a Communal Bruderhof Childhood in Paraguay, Europe, and the USA, by Elizabeth Bohlken-Zumpe; Distant Brothers: History of the Relations Between the Bruderhof and the Kibbutz, by Yaacov Oved;
Free From Bondage: After Forty Years in Bruderhof Communities on Three Continents, by Nadine Moonje Pleil,  107
MAX E. STANTON
The Plough and the Pen: Paul S. Gross and the Establishment of the Spokane Hutterian Brethren, by Vance Joseph Youmans, 110
PEARL W. BARTELT
Jewish Agricultural Colonies in New Jersey, 1882-1920, by Ellen Eisenberg, 112
CARL J. GUARNERI
God's Government Begun: The Society of Universal Inquiry and Reform, 1842-1846, by Thomas D. Hamm, 113
HARV BISHOP
Is It Utopia Yet?: An Insider's View of Twin Oaks Community in Its Twenty-Sixth Year, by Kat Kinkade, 115
MIKE CUMMINGS
From Utopian Dreaming to Communal Reality: Cooperative Lifestyles in Australia, edited by Bill Metcalf, 118
ELIZABETH A. DE WOLFE
Women, Family, and Utopia: Communal Experiments of the Shakers, the Oneida Community, and the Mormons, by Lawrence Foster, 120
ROD JANZEN
Banished for Faith, by Emil J. Waltner, 121
PHILIP E. WEBBER
Propheten der Goethezeit: Sprache, Literatur und Wirkung der Inspirierten, by Ulf-Michael Schneider, 123
LUCY JAYNE KAMAU
Historic New Larnark: The Dale and Owen Industrial Community Since 1785, by Ian Donnachie and George Hewitt, 125
Cover
The Ronneburg Castle in Hesse, Germany, was the site of one of the assemblies of the Community of True Inspirationists. The Inspirationists migrated in the mid-nineteenth-century to the USA, first to the vicinity of Buffalo, New York, and then to Iowa. Descendants still live there in the Amana Colonies.
Additional information
| | |
| --- | --- |
| Shipping Destination | USA and Canada, International |